How to Join
From Modded Minecraft Club Wiki
Pack versions
By rule, we will always use the latest Release version of the modpacks on our servers. Sometimes it takes a little bit of time to update to a new version. For those scenarios, the current versions are listed here:
Farming Valley

Minecraft version 1.10.2
Modpack version 9.5 (subject to change)
FTB Revelation

Minecraft version 1.12.2
Modpack version 3.0.1 (subject to change)
Enigmatica 2: Expert

Minecraft version 1.12.2
Modpack version 1.72b (subject to change)
Note that with this modpack some people have had trouble downloading it through the Curse launcher. MultiMC may be helpful.
SevTech: Ages

Minecraft version 1.12.2
Modpack version 3.1.2
Omnifactory

In order to join Omnifactory, you must make a change to your client. See the "Joining Omnifactory" section of this page at the bottom.
Minecraft version 1.12.2
Modpack version 1.2.1 (subject to change)
All the Mods 3: Remix

Minecraft version 1.12.2
Modpack version 1.5.0 (subject to change)
Addresses
fv.moddedminecraft.club

fr.moddedminecraft.club

e2.moddedminecraft.club

st.moddedminecraft.club

of.moddedminecraft.club

atm3r.moddedminecraft.club

Setup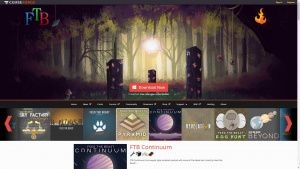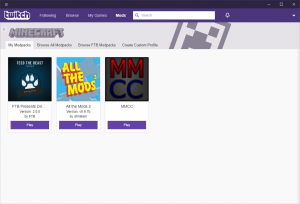 Downloading the Twitch App
In order to get started, go to the Feed The Beast website and download the Twitch App or the FTB (Legacy) launcher.
Installing the Twitch App
Run the downloaded setup file, which will begin the installation process after you have accepted the EULA. The Client installer may have to update your .NET framework – it will do so automatically. The client may need to undergo an update when logging in for the first time. It will automatically restart and install the latest update for you. Shortcuts will place a Twitch shortcut on your desktop Please note that you will need a Twitch.com account in order to use the Twitch App. You can register for a free account on Twitch.tv or on the Client login page.
Using the Twitch App
You can find an entire tutorial on how to download the desired modpack over at Twitch.tv
Joining Omnifactory
Both of the following sections are worth reading for any players interested in playing Omnifactory on any server.
Why do I need to do it?
On Omnifactory, we have enabled AE2 channels in order to help with lag. This solves the lag problem that plagues any Omnifactory server that does not take this step. We use the default AE2 recipe for the controllers, so they are easy to create. We also will provide free dense cables and controllers to players that prefer to make it even easier upon request (ping @Staff on Discord to get them).
What do I need to do?
To join the server you must enable AE2 channels on your client. To do this, open your Minecraft directory (the exact step varies depending on your launcher), open the config directory, open the AppliedEnergistics2 directory, open the main config file in a text editor (notepad and notepad++ are good options -- avoid full word processors like Microsoft Word, if you see everything on one line in Notepad, try Wordpad or notepad++ -- other operating systems have similar programs) and enable channels by setting `B:Channels = true`.