How to Join
From Modded Minecraft Club Wiki
Setup
Downloading the Twitch App
In order to get started, go to the Feed The Beast website and download the Twitch App or the FTB (Legacy) launcher.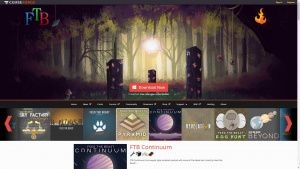 Installing the Twitch App
Run the downloaded setup file, which will begin the installation process after you have accepted the EULA. The Client installer may have to update your .NET framework – it will do so automatically. The client may need to undergo an update when logging in for the first time. It will automatically restart and install the latest update for you. Shortcuts will place a Twitch shortcut on your desktop Please note that you will need a Twitch.com account in order to use the Twitch App. You can register for a free account on Twitch.tv or on the Client login page.
Using the Twitch App
You can find an entire tutorial on how to download the desired modpack over at Twitch.tv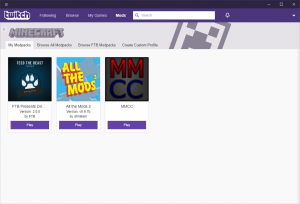 Pack version
By rule, we will always use the latest Release version of the modpacks on our servers. Sometimes it takes a little bit of time to update to a new version. For those scenarios, the current versions are listed here:
Stoneblock

Minecraft version 1.12.2
Modpack version 1.0.26 (subject to change)
All the Mods 3 - Remix

Minecraft version 1.12.2
Modpack version 0.1.2 (subject to change)
FTB Continuum

Minecraft version 1.12.2
Modpack version 1.4.1 (subject to change)
FTB Sky Adventures

Minecraft version 1.12.2
Modpack version 1.2.1 (subject to change)
Addresses
sb.moddedminecraft.club

sa.moddedminecraft.club

fc.moddedminecraft.club

atm3.moddedminecraft.club